Lovin'
Figs and Rouge - Rambling Rose
I overlooked this product when I got it in my Glossybox ages ago. I've come to relove it, and it's a main thing in my handbag for the winter months.
Hatin'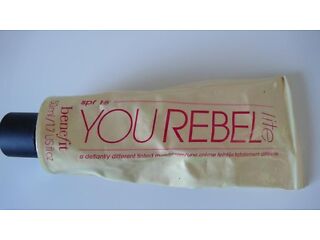 Beneft - You Rebel Lite - Tinted Moisturiser
This is the worst tinted moisturiser I've ever used! I've pick Natural Collections over this, and it's far, far cheaper. I don't think anyone should waste their money on this product. It's so greasy and a horrid colour.
Tryin'
Jergens Natural - Ultra Hydrating - Intensive Moisturiser
I wanted to find an intensive moisturiser for the winter months, and I came across this. I've only used it once and it's done my skin the world of good. I'm going to keep trying and review it soon. I have to say I am loving it so far.
Cravin'
Liz Earle - Superskin Concentrate
I really want to try this out! I want the 10ml travel size over the larger one, as I'm a sucker for smaller stuff, and when I travel so much it's a lot more easy to have this handy. I'm still on project pan, but I'm adding it onto my Birthday present list.